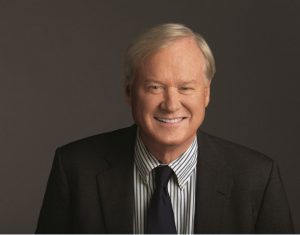 Host of Hardball on MSNBC
Chris Matthews has been following American politics since the first Eisenhower campaign. As a very young teenager, he became enthralled with the historic rivalry of John F. Kennedy and Richard Nixon. It was a time of big downtown rallies and ticker tape parades on Wall Street, when supporters wore boater hats and bright campaign buttons.
Hardly a decade later he was engaged in American politics professionally. Back home from the Peace Corps in Africa, he was working in the US senate. Then came his tour in the White House as a presidential speechwriter, followed by his front-row seat as top aide to the legendary Speaker of the House, Thomas P. "Tip" O'Neill, Jr.
In the late 1980s, Chris switched to full-time journalism, serving as Washington Bureau Chief for the San Francisco Examiner. In this capacity he covered some of the great historic events of the late 20th century, including the fall of the Berlin Wall and the first all-races election in South Africa.
He began his career on television in 1994 as host of a two-hour nightly program on the NBC-owned America's Talking network. Three years later, he launched Hardball, now on MSNBC, which was the title of his best-selling handbook on real-life politics published in 1988. He has been on the air every weekday night since.
In all the years Chris has been involved in the country's public life he's kept an abiding faith in electoral politics, his quadrennial hope that the American people will make the best judgment on who should lead. He has kept that faith through war and peace, good times and bad, through great leaders and not-so-great. He has never lost his vigorous love of democracy and how it can serve to make this country, through all its challenges, a more perfect union.
He is the author of eight books. They are, Hardball: How Politics is Played, Told by One Who Knows the Game; Kennedy & Nixon: The Rivalry that Shaped Postwar America; Now, Let Me Tell You What I Really Think; American: Beyond our Grandest Notions; and Life's a Campaign; Jack Kennedy: Elusive Hero; Tip and The Gipper: When Politics Worked; and Bobby Kennedy: A Raging Spirit.